A conversation with The Honourable Donald Ethell, former Lieutenant-Governor of Alberta
Published: Nov 10, 2017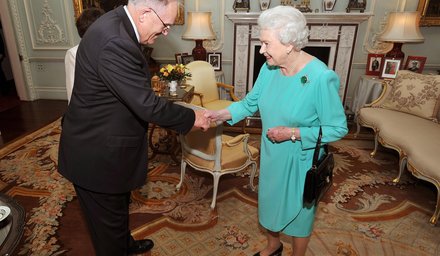 Don meeting Queen Elizabeth II at Buckingham Palace in London, England.
We recently had the pleasure of speaking with His Honour Colonel (retired) Donald Ethell, Order of Canada.
Don is one of our nation's most decorated peacekeepers, the former Lieutenant-Governor of Alberta and a past board member of the Alzheimer Society of Calgary.
He stopped by to share his continuing passion for improving the health and wellbeing of veterans.
"Alzheimer's disease is a cause that's always been near and dear to me and my son is an Alzheimer's disease researcher in California.
"We're lucky not to have any cases of dementia in our family, but I've known many servicemen and women who have been impacted by this terrible disease. It's definitely a growing area of concern for many of my friends," he says.
A recent study from the University of California has linked traumatic brain injuries in veterans with a 60% increase in the likelihood of developing Alzheimer's disease or a related form of dementia(1).
Another study found that veterans who experience post-traumatic stress disorder (PTSD) are twice as likely as those without PTSD to develop dementia(2).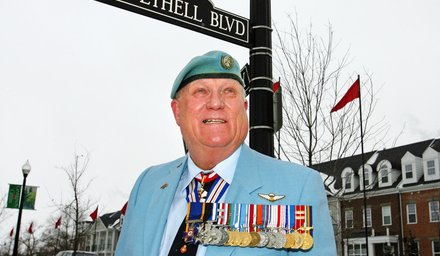 Don with the street that bears his name in the Calgary community of Garrison Green.
"I've struggled with PTSD myself," Don explains. "And there's a major parallel between the stigma that surrounds both PTSD and Alzheimer's disease."
"No one wants to talk about these issues, or that they're having trouble coping.
"There's this 'macho' attitude that's engrained in us to say, 'Nothing is wrong, I'm not struggling, I don't need any help.' It can be easy to hide what's really going on, at least at first."
"That puts so much stress on the family members or other loved ones around the affected person. It often falls to family to help the person (with PTSD or dementia) realize something isn't right and to reach out for help."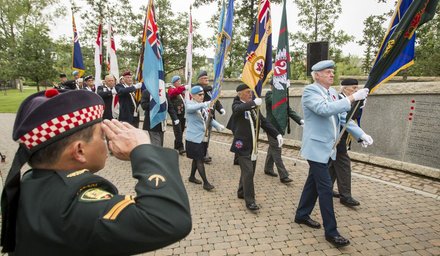 Don is a proud member of the Calgary chapter of CAVUNP (Canadian Association of Veterans in United Nations Peacekeeping). Their distinctive blue peackeeper's berets can be seen in this photo from International Peacekeepers Day at Peacekeepers Park in Garrison Green.
Your support of the Alzheimer Society of Calgary helps provide veterans and their families with a free, confidential and expert source of help in their time of real need.
You also create immediate, tangible and 100% local impact for a growing number of families in Calgary and area, above and beyond those who have proudly served our country.
"I've tried to do my part by advocating for veterans' health. It seems that people often think of the immediate emotional toll that service takes, but they don't think about the long-term cost to health and wellbeing that service has for these men and women."
"I know there's no cure for Alzheimer's disease or other dementias," Don says. "It's something that doesn't go away. So we need to do everything we can to support those who have been through so much, both physically and emotionally, who are now facing this disease."
To learn more about reversible and non-reversible risk factors for Alzheimer's disease and related types of dementia, click here.
____________________
(1). Barnes, D.B. et al. (2014). Traumatic brain injury and risk of dementia in older veterans.
(2). Yaffe, K. et al. (2010). Post-traumatic stress disorder and risk of dementia among U.S. veterans.