#Canada150 - Olympic Medalist and Order of Canada Member Elizabeth Manley Visits Club 36
Published: Jun 29, 2017
It was one of our city's finest moments - the 1988 Winter Olympics - and during it all she was known as "Canada's Sweetheart". Now, Elizabeth Manley has returned to Calgary - the site of her star-making turn as silver medalist in ladies figure skating – to help raise funds for the Alzheimer Society of Calgary.
While in town, Manley attended a fundraiser hosted by Burnet, Duckworth and Palmer LLP (BD&P) and visited members of the Alzheimer Society of Calgary's Club 36 Adult Day Program at the Harvest Hills location.
"My visit to Club brought back a lot of memories for me because my father was involved in a day program," said Manley.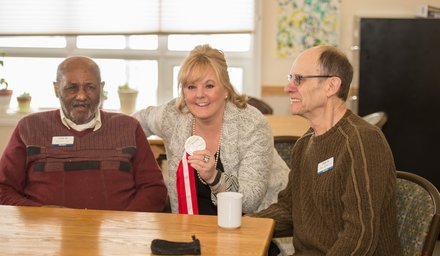 "But the one thing I was really reminded of is it's not them, it's the disease. And as sad as it may have been to be with them, the [Club members] still made me laugh, they were hugging me. It was such an enjoyable moment. And it really makes me want to speak out even more on Alzheimer's because when we support, it might not only be for someone who is going through Alzheimer's but it could be for ourselves. Alzheimer's can happen to anyone - and it's a disease that we really need to be more supportive of and more aware of, and that's the reason I'm behind it and trying to be a voice for it."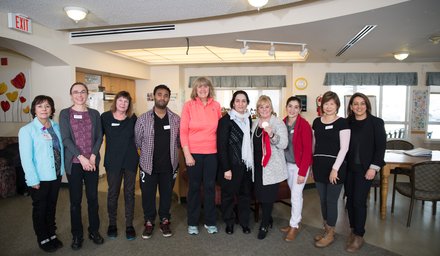 Alzheimer's disease is a cause close to Manley's heart. Her father, Bernard, passed away from the disease in 2010. And while her on-ice accomplishments are many, Manley's dedication to raising awareness about Alzheimer's disease and lending her famous name to the causes she is passionate about makes her even more of a star in our eyes.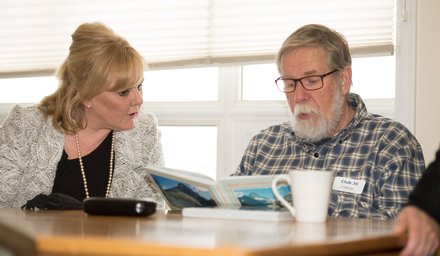 Thank you to Elizabeth for all her support, including making time in her busy schedule to visit Club 36 Harvest Hills. And special thanks to BD&P for both bringing Elizabeth to Calgary and hosting the fundraiser.