2018 Investors Group Alzheimer Walk and Run
Published: Nov 01, 2018
The numbers are in and the 2018 Investors Group Walk and Run raised over $300,000! We are so thankful for everyone who participated and helped make the event one of our best yet! Funds raised are put back into essential programs and services accessed by thousands of local individuals affected by dementia each year.
This year's theme – Not Alone. Not Silent – was reinforced by the 1500 people who came out to Eau Claire on Thanksgiving Sunday. Dressed in red, individuals of all ages turned out to show their support for Calgarians impacted by dementia and pay tribute to loved ones.
What a fabulous day! The miraculously sunny weather, combined with live entertainment from Latin band Klave, the Chinook Country Line Dancers and the energy of participants, created a truly uplifting experience. Event Ambassador Ron Freckleton kicked off the race with Alzheimer Calgary Board of Directors Chair, Ryan Jennings, as participants set off along the glorious Bow River pathway system.
As always, we are grateful to all of our participants, sponsors, volunteers and partners who contribute to making this special community event a great success. 2018 also marked our last year at Eau Claire! As redevelopments at the market are scheduled to begin soon, the Investors Group Alzheimer Walk & Run will be moving to the Calgary Chinese Cultural Centre in 2019. Stay tuned for more details!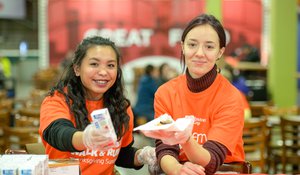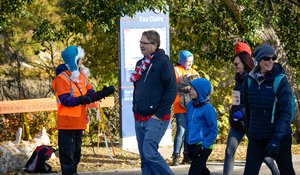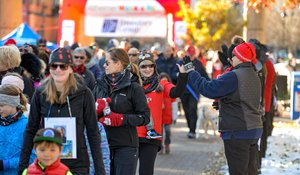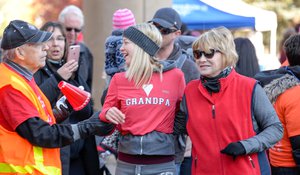 Visit the Alzheimer Society of Calgary's Facebook page to see more pictures from the day!