Donate Now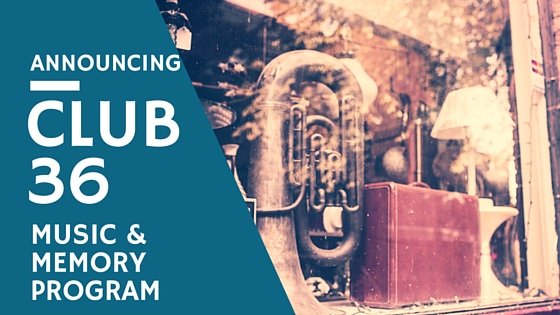 Make a difference with your old iPod
Music has the unique ability to transport and capture moments in time. That song comes on and suddenly you can hear the swish of your dress on your wedding day, the scent of your new baby, or the view from the top of the Ferris wheel.
Music is a powerful medium that has a tremendous impact on our lives and particularly for those living with dementia. The Alzheimer Society of Calgary is thrilled to introduce music therapy to the Club 36 Adult Day program. The therapy will provide personalized music for members of Club.
Research shows, therapy can help stimulate memories in people living with dementia. The program will enable the members to reconnect with the world through music-triggered memories.
The staff at the Alzheimer Society of Calgary has completed training for the music program from the non-profit organization Music & Memory. Over the coming months, Club 36 will begin to implement the program.
To see the music therapy in action, check out this preview from the documentary Alive Inside: https://youtu.be/IaB5Egej0TQ
How you can help?
The Alzheimer Society of Calgary is collecting gently used iPods, iTunes gift cards, as well as donations to go towards the purchase of iPods and music for Club members.
iPods can be dropped off at the Alzheimer Society of Calgary office Suite 201-222 58th Ave SW.
Your contribution makes a meaningful and measurable impact. By supporting us, you enable local people impacted by dementia to live life well. Thank you so much.
Upcoming Events
Each Wednesday for 2 weeks, May 11 & 18 1:00PM - 4:00PM

Caregiver Strategies for Dementia

A practical skill-building workshop providing an essential foundation for family members, friends and caregivers

Wednesday, June 15th 6:30 PM - 8:30 PM

Understanding Dementia & Brain Health

A superb introduction to the topic of Alzheimer's disease and related dementias

Wednesday, June 22nd 1:00 PM - 4:00 PM

Considering Care Options

If you're considering a change in care options for your loved one, this is a good place to begin.
View All Events