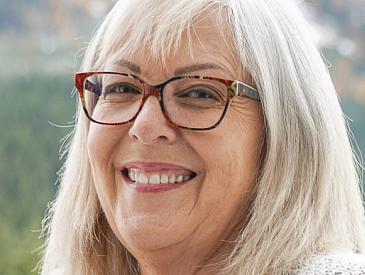 I'm Lois. I'm the President of the Board and a proud champion of Alzheimer Calgary. I want to tell you the story of my mom and her 18-year journey with Alzheimer's disease.
The Journey of Dementia
My mom was just 61 when she began to show signs of dementia. I was overwhelmed and felt panicked. We sat together and cried. I didn't know what to do, but I hugged her and told her, "It's a disease, not any kind of judgment about who you are or how you've lived. We'll all be with you and look after things together, just the same as if you had any other kind of health problem."
For every family dealing with the dementia diagnosis of a loved one, the experience is unique and challenging. For us, it meant that by age 67, Mom had lost the ability to speak. For several years she was fearful and anxious. Unable to understand or explain her feelings, her eyes often showed confusion, but her rare smiles allowed us to hope she was sometimes happy. Mom's long-term partner, Keith, was her primary caregiver, supported by wonderful friends and neighbours. We talked and met often. We didn't always agree about what Mom needed, but we set up part-time, in-home care during the day, then eventually full-time, 24-hour care. After 13 years, her needs became more than we could provide with home care, and we finally had to move her to a long-term care home. It was a difficult decision, and I felt guilty for making it.

The Role of Alzheimer Calgary
My dementia support navigator, Janet, listened to me and knew exactly what I was going through. She helped to calm me down, suggested options, helped me make decisions, and connected all those involved in Mom's care with the support we needed during some very difficult times. I don't know what we would have done without Alzheimer Calgary. They were there, providing support and help every step of the way.
Helping other families today is why I am so pleased to give back to Alzheimer Calgary in my role as Board President. In honour of my mom, I participate in the annual IG Wealth Management Alzheimer Walk & Run, where all funds raised support the great work of Alzheimer Calgary. It is thanks to donors like you that families like mine can access the tools they need when they need them most.