Meet Cheryl And Lori
"Right up until the end, she could still put lipstick on perfectly without a mirror," says Lori Chibry. "You would hand her a tube of lipstick and she would just swipe it on beautifully. And she always loved the bright colours." Lori laughs fondly as she remembers the caring, vibrant matriarch of her family – her mom, Anne Marie Itterman. "She was a dynamic woman. There was no part of her that was a shrinking violet."
Cheryl Simundson, Anne's other daughter, echoes the memories: "She had bright red hair, and her nails were always impeccably done, and she always had matching boots or shoes with her purse. And she would hug everybody she met. She would walk into a room and be the light of the room. It was her laughter and the way she carried herself. She was graceful and regal and people gravitated toward her. They wanted to be close to her."
Remembering their mom, described as the nucleus of their family, brings on many emotions for Cheryl and Lori – there are tears of course, but also much laughter. Born in Altario, Alta in 1935,
Anne had three children and five grandchildren, and her world truly revolved around them.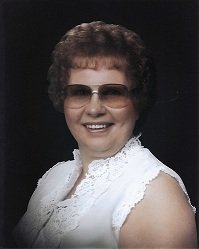 Anne had gone back to school late in life to be a hairdresser, and she opened a shop in her basement. It was successful for many years, but her children started noticing worrisome signs.
She would hand a customer her wallet and ask them to retrieve their change. She was having trouble keeping track of time when a customer's hair was being dyed, or sometimes forgot to finish the haircut altogether.
Anne was only 60 years old, but her children knew something wasn't right and approached their father. At first he denied it, but eventually they discovered through testing that she had early onset Alzheimer's disease, and it progressed rapidly.
"My dad had a beautiful description for it," says Lori. "He said it's like a book, and every day you rip out one page. And the cover looks the same, but the person inside was gone."
The family struggled with the personality changes that can affect Alzheimer's patients, but found a way to keep a positive attitude.
They would often say she meant the opposite of anything that was out-of-character.
"Even though we were the people who she loved the most, her anger was towards us,"remembers Cheryl.
"But we would turn it around say, 'Oh she didn't mean that, what she really wanted to say was…' We would always say it's the disease that's talking. It's a roadblock, a short circuit in her mind."
They also used humour to cope.
And they still laugh as they reminisce about some of the more comical moments. Lori remembers Anne phoning and saying, "Lori, I have two pantsuits on today." Cheryl recalls that her mom wanted to change the colour of her purse so she painted it with nail polish. The sisters say that humour is what got them through the difficult times of dealing with their mother's condition. As Lori says, "If we didn't laugh we would cry, so we tried to choose laughing."
The sisters agree that it was sometimes difficult to make decisions as a family about their mom's care, and it was a journey of learning to advocate for their mother.
"We learned never to be afraid to ask questions, to research it yourself, but also to know you're an advocate, you're their voice," says Cheryl. "We always had really good communication with the staff."
Cheryl painted a wall mural at the Bethany on the 8th floor, a large 4' x 6' picture of mountains, because Anne loved them so much. They tried to make her room at the Bethany as close to home as they could, including changing out the decorations for each season. They even made a body pillow with an iron-on of their dad's face and weighted arms, which gave their mom comfort and kept her from leaving her bed and falling at night.
Cheryl's involvement continues to this day with the Alzheimer Society of Calgary.
"Being involved helps me honour my mom," she says. "Because I work for IG Wealth Management (the Alzheimer Walk and Run title sponsor), I can walk or volunteer at a table or help out in other ways. We received help from Alzheimer's Society and they were there for us. I wasn't able to give back when Mom was alive because I was just surviving, but now I'm at a point when I can." Cheryl and Lori are grateful for what they have learned through their journey.
"People we know are starting to go through the same thing now," says Cheryl. "We're able to say, 'Have you called the Alzheimer's Society? There's respite care available. You need to get in touch with them.'"

"We tell them that there is help out there," says Lori.
"You need to reach out and get the support you need...because you can't do this on your own."
This is perhaps the most important lesson for them – how to get through a difficult time as a family, a lesson they say came directly from their mother.

"We had a mother who loved us with all her heart, and we loved her with all our hearts," says Cheryl. "And it's because we were such a strong family that we could deal with her illness. Sure, there were disagreements about her care and the decisions we had to make, but we were always a family, in it together at the end of the day.

Lori agrees. "Family is everything and she instilled that in us, the importance of being there for each other. And that's why we leaned on each other so much. Our strength comes from being together."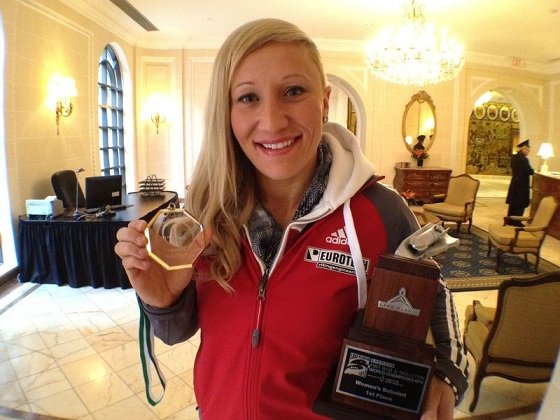 Anne's greatest joy in life was in watching her children and grandchildren succeed.
Her granddaughter Kaillie Humphries, Cheryl's daughter, took home the Olympic gold medal in women's bobsleigh at the 2010 Olympic Games in Vancouver and again at the 2014 Olympic Games in Sochi, Russia. Kaillie wore her grandmother's wedding ring to symbolize the love and memories she has for Anne, and though she had passed away, her family members knew she was there in spirit.

"One year I went to Switzerland for the Worlds," says Lori. "The wind had been still for hours. And then suddenly were these wisps of snow coming off the mountains. I looked up and I thought, she's there, there's a part of her here."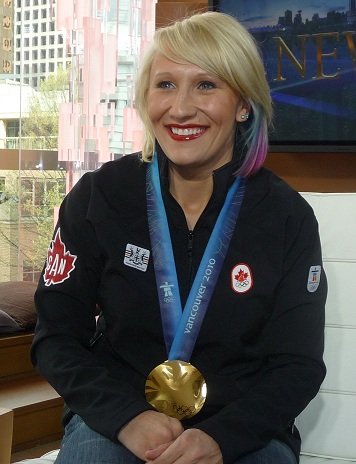 Thank you to Cheryl and Lori (and your family members, including Kaillie!) for sharing your story.