Register & Raise
Get Involved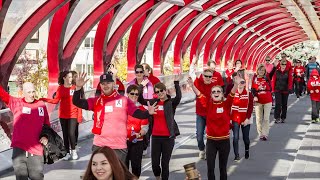 Video: You can make a difference. CTV's Saba Hailemariam explains how your support makes an impact for local families.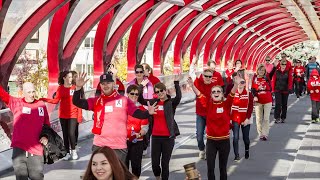 Video: You can make a difference. CTV's Saba Hailemariam explains how your support makes an impact for local families.
Walk or run for the cause
Let's transform the dementia story. Together.
October 8, 2017
10:00 a.m. - 12:00 p.m.
Eau Claire Market
Join us to help transform the way dementia affects local lives.
By registering and raising funds, you create access to important resources and support for Calgary families affected by Alzheimer's disease and related dementias when they need it most. You also empower those in the thick of these diseases, letting them know that we're all in this together. It's a great opportunity to honour our loved ones - by creating a better future for the increasing number of people affected every day.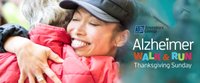 Incentives & Prizes
This year, prizes for top fundraisers this year include a tropical dream vacation package - and every registrant gets a $10 Save on Foods gift card - click here to find out more about all the prizes and incentives on offer.
How am I creating life change for local families?
It's through your fundraising efforts that all donations and pledges above and beyond the registration fee will go directly toward the local community. These funds are applied to local programs and services that serve thousands of people affected by dementia in Calgary and surrounding areas.
Volunteer for the event
The helping hands of close to 200 volunteers make Thanksgiving traditions come true for our local community at the Investors Group Alzheimer Walk & Run. None of this could have been done without the dedication of our amazing volunteer group.

Volunteer registration will open in July 2017.
Support a participant
Please click here to search for the name of a participant or team to support
Corporate partners
We work with our sponsors to provide a customized sponsorship package that includes a year-round integrated marketing and communications strategy, on-site presence at events and programs, and value-added extras.
For further information or to request the creation of a customized sponsorship package, please contact Sarah Salus at sarahs@alzheimercalgary.ca or call 403-290-0110.
We proudly recognize our corporate partners and suppliers for the Investor's Group Alzheimer Walk and Run.Please click here to see more info on corporate giving.
Corporate fundraising teams
A great way to build team spirit and staff wellbeing at this high profile community event is to create your own corporate team. Get creative with the team name, incentive prizes for your top fundraisers and event day uniforms.
Click here to register a team for the 2017 event.