Walk Or Run For The Cause
Come together. Be inspired.
Update on the status of the 2020 IG Wealth Management Alzheimer Walk & Run
The team at the Alzheimer Society of Calgary is currently monitoring government updates on large public gatherings happening in the fall. In the meantime, we are also working on contingency planning in case we need to convert to a virtual event. We will continue to provides updates as we know more.
About the IG Wealth Management Alzheimer Walk & Run
If your life has been touched by dementia, in even a small way, there's virtually nothing that compares to the energy and inspiration in our biggest fundraising event of the year.
The IG Wealth Management Alzheimer Walk & Run is a Thanksgiving tradition for the Calgary dementia community.
Save the Date: Sunday, October 11th 2020
Why come?
For big and small, short and tall, fit and…well, like the rest of us.
A sea of red to lift your spirits
Music, food and feel-goods to nourish the soul
Scenic Bow River pathways filled with old and new friends
We'll be celebrating the event's 30th anniversary
P.S. You'll be home in time for turkey. We promise.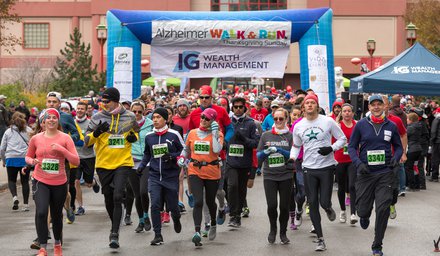 Thank You, 2019 Supporters!
Our biggest thank you to everyone involved in the 2019 IG Wealth Management Alzheimer Walk & Run. Together we raised more than $270,000 to support local people impacted by dementia. Funds raised make essential support, learning and care possible for thousands of local people every year.
Kudos to our longtime sponsor, IG Wealth Management, making this event possible each year.
Stay tuned to our website for news about the 2020 event!