Register & Raise
Get Involved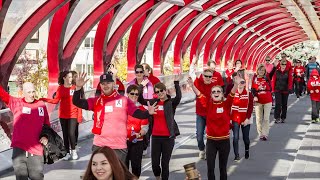 Video: You can make a difference. CTV's Saba Hailemariam explains how your support makes an impact for local families.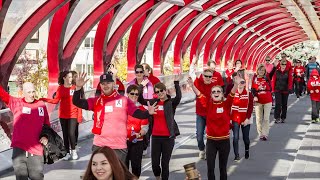 Video: You can make a difference. CTV's Saba Hailemariam explains how your support makes an impact for local families.
Walk or run for the cause
Our humble thanks and appreciation goes out to all participants, donors, sponsors and partners who make each Investors Group Alzheimer Walk & Run such a success.
Thanks to those who raised critical funds for an essential cause and perservered through an economically challenging time to make every effort count.
Stay tuned for updates and info on next year's event.
Save the Date
October 8, 2017
10:00 a.m. - 12:00 p.m.
@Eau Claire Market

How am I creating life change for local families?
It's through your fundraising efforts that all donations and pledges above and beyond the registration fee will go directly toward the local community. These funds are applied to local programs and services that serve thousands of people affected by dementia in Calgary and surrounding areas.
Volunteer for the event
Because your time transforms this community. Are you in?

The helping hands of close to 200 volunteers make Thanksgiving traditions come true for our local community at the Investors Group Alzheimer Walk & Run.

Last year, close to $275,000 was raised by our community of participants to benefit local families. None of this could have been done without the dedication of our amazing volunteers.

If you have any questions about volunteering in 2017, please email volunteer@alzheimercalgary.ca
Support a participant
Currently, the event page is closed. If you would like to make a donation that will be put to work immediately and make a difference for local families, please click here.
Corporate partners
We work with our sponsors to provide a customized sponsorship package that includes a year-round integrated marketing and communications strategy, on-site presence at events and programs, and value-added extras.
For further information or to request the creation of a customized sponsorship package, please contact Sarah Salus at sarahs@alzheimercalgary.ca or call 403-290-0110.
We proudly recognize our corporate partners and suppliers for the Investor's Group Alzheimer Walk and Run.Please click here to see more info on corporate giving.
Corporate fundraising teams
A great way to build team spirit and staff wellbeing at this high profile community event is to create your own corporate team. Get creative with the team name, incentive prizes for your top fundraisers and event day uniforms.
Check back to register a team in 2017.