Reduce Your Risk
How can you reduce your risk?
A few lifestyle factors can help reduce your risk of developing Alzheimer's disease or another type of dementia.
Physical activity: Regular exercise is beneficial for your heart health as well as brain health. It Improves circulation to the brain and delivers more oxygen to the brain. Exercise helps reduce depression, supports sleep and helps control all cardiovascular risk factors. It also nurtures the growth of new nerve cells in critical parts of the brain that are responsible for memory, learning and decision-making.
Research has shown that regular physical activity can slow down amyloid protein accumulation and cognitive decline in people with a high risk of developing familial (inherited) Alzheimer's disease. Regular walking has been found to improve cognition — even in someone with early dementia.
Regular walking improves cognition — even in someone with early dementia.
We Recommend:

Engage in moderate-intensity exercises (such as brisk walking) for about 30-45 minutes on most of the days of the week. If you have a higher risk of developing the disease, we recommend 60 minutes of moderate-intensity exercise about five times a week.
Cognitive stimulation: Having high levels of cognitive activity throughout your life will reduce brain amyloids and reduced age-related shrinking of the brain. This will result in improved executive functioning of the brain and help slow the onset of any dementia symptoms.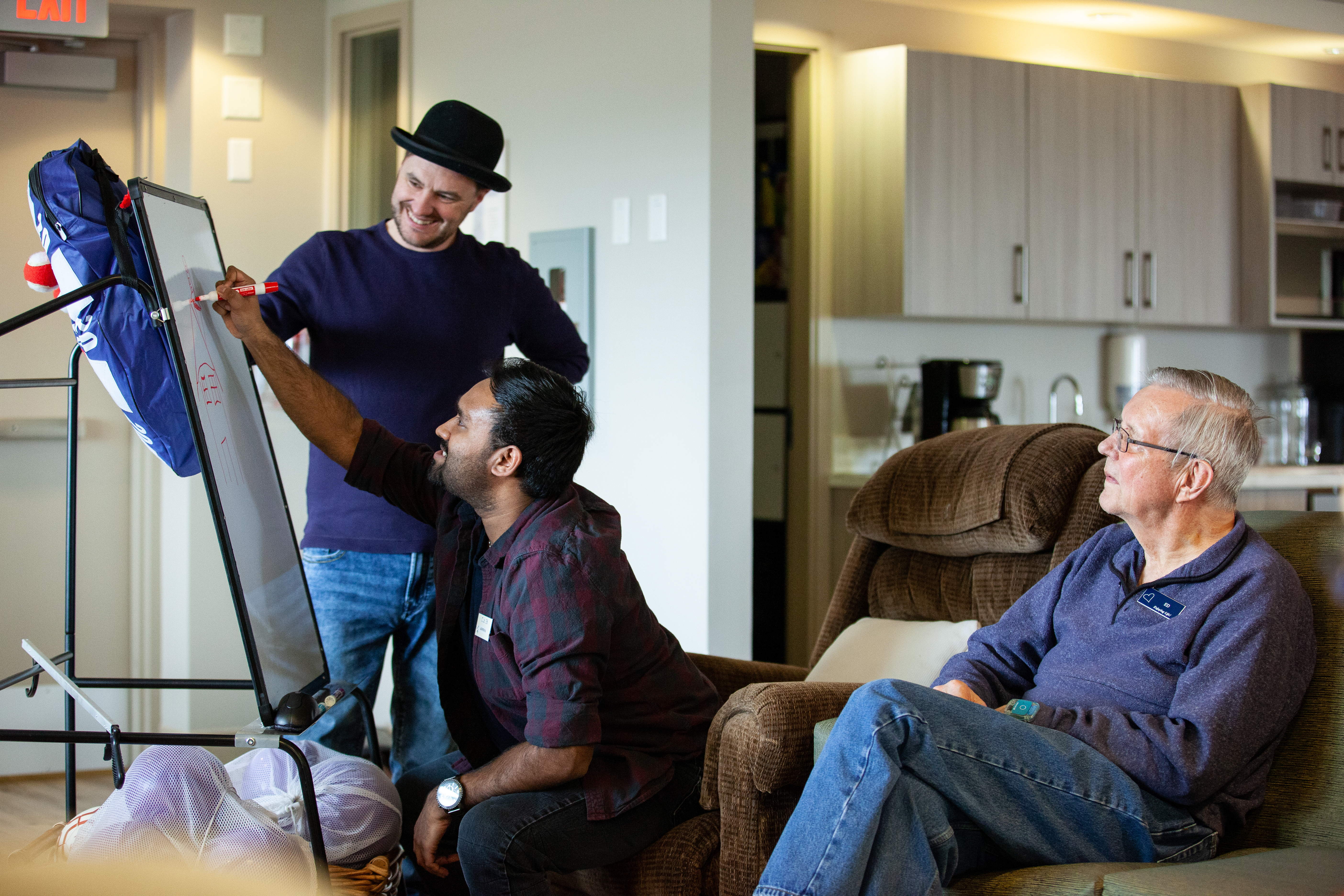 We Recommend:

Challenge your brain daily by learning something new, such as a new skill, hobby, or a different language. Play chess, Scrabble, learn the lyrics to a song, etc.
Diet: Consider a plant-based diet, such as the Mediterranean diet. It's rich in vegetables, fruits and whole grains and low in meat and sugar. The Mediterranean diet has been shown to reduce your risk of dementia and slow the progression of Mild Cognitive Impairment (MCI) - a recognized risk factor for dementia.
A recent study (by CARDIA) demonstrated that people who adhered strictly to the Mediterranean diet throughout adulthood have improved cognitive functioning in midlife.
Controlling cardiovascular risk factors: Monitor your blood pressure, blood sugar and cholesterol. If any of these results are outside the normal range, see your physician for strategies to reduce them. By getting your blood pressure, blood sugar and cholesterol levels down to the normal recommended range, your risk of developing dementia will be significantly reduced.
A recent study (by SPRINT-MIND) showed that aggressive efforts to lower systolic blood pressure to 120 in midlife resulted in a 19 per cent reduction in the risk of developing Mild Cognitive Impairment (MCI).
We recommend:

Please consult your doctor to have these values checked and for appropriate treatment and follow up.
Social activity: Connecting with people and having conversations is good for you. Take advantage of opportunities to meet and interact with people. Explore volunteering opportunities or consider joining a club.
Smoking and alcohol issues: Quit smoking and limit your alcohol intake.
We recommend:

A (maximum of (1) one standard drink for women and two (2) standard drinks for men at one time. Consult your physician for strategies to stop smoking.
Address hearing impairment: The use of hearing aids appears to reduce negative health issues due to loneliness - which is associated with dementia. Future intervention studies are needed to assess whether treatment of hearing impairment can reduce the risk of MCI and dementia in older adults.
Treating depression promptly: Getting appropriate treatment for depression can significantly improve your quality of life. You're more likely to get back to previously enjoyed activities and to become more socially active – all leading to improved brain health.
Sources: Healthy Lifestyle: Nutrition and healthy eating – The Mayo Clinic
https://www.mayoclinic.org/healthy-lifestyle/nutrition-and-healthy-eating/in-depth/mediterranean-diet/art-20047801
Dietary patterns during adulthood and cognitive performance in midlife – The CARDIA study (Neurology)
https://n.neurology.org/content/92/14/e1589
Exercise Linked to Less Pathology, Better Function in Familial AD - ALZFORUM
https://www.alzforum.org/news/research-news/exercise-linked-less-pathology-better-function-familial-ad