About Club 36
The Alzheimer Society of Calgary operates Club 36, an Adult Day Program (ADP) for people living with dementia. This program provides meaningful activities including music, physical activities, baking, gardening and individual hobbies such as woodworking.
Club 36 maximizes the individual's independence and abilities in a caring and supportive environment. It also provides caregivers with an opportunity for respite. This program has provided quality dementia care in Calgary for more than 20 years.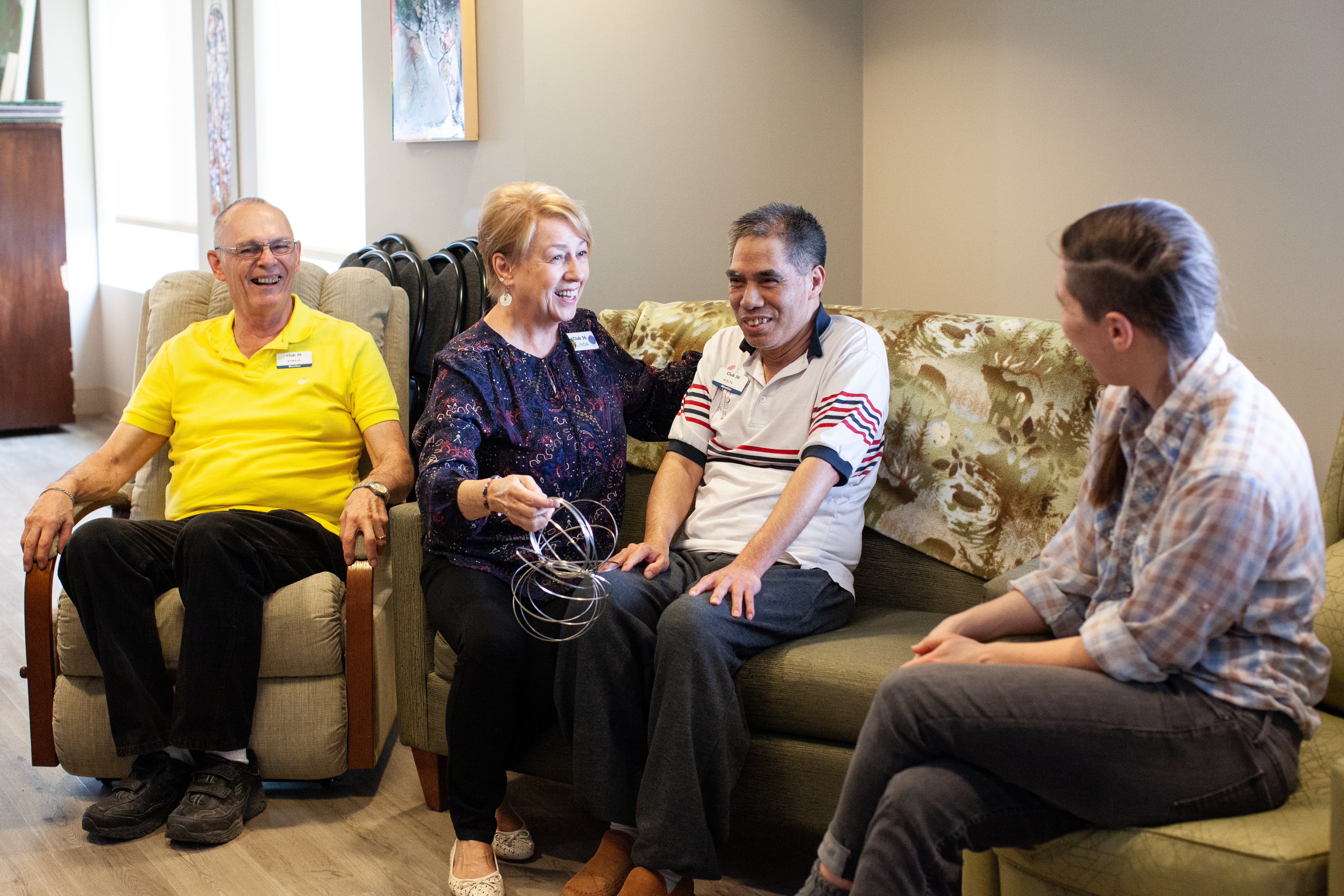 It is the result of a partnership with Alberta Health Services and operates from two locations in Calgary (one in the North and one in the South). All Club 36 staff members are educated in the Best Friends™ Approach to Alzheimer's care, which provides a solid foundation of person-centred care in a home-like atmosphere.
Why attend an Adult Day Program?
Day programs not only provide activities for the individual with dementia but also support, information, resources and access to services for caregivers.
People with dementia are engaged in activities that are meaningful, success-oriented and stimulating. They also have an opportunity to socialize with other people and spend time with others who are experiencing similar challenges.
Caregivers often welcome a break from their caregiving responsibilities, enabling them to spend time with friends and family or simply relax. There is often a sense of comfort knowing that the person with dementia is safe while they are away, and they are free to tend to other tasks (errands, shopping or appointments) and care for themselves (getting a haircut, exercising).
Read about one of our participating couples: Meet Matt and Heather. Matt appreciates a little respite from time to time.
Transitioning to the program
Choosing to attend an Adult Day Program can be a complicated choice with many factors to consider. We want to assist by making the transition as smooth and simple as possible, ensuring that your loved one is successful in this new experience. You can be confident knowing your family member will be cared for by professionals who understand their cognitive challenges.
How to enroll
Anyone wishing to participate must register with Alberta Health Services Home Care and be over the age of 18 to qualify for the ADP (Adult Day Program). For a Home Care assessment, please contact your physician or contact:
Health Link Alberta
Toll-free 1-866-408-5465 or 403-943-5465
You will also find more information on the Alberta Health Services Home Care website here:
www.albertahealthservices.ca
Once you qualify:
Meet with your case manager and discuss your options (special requests, needs and geography).
Your case manager will refer you to an Adult Day Program (ADP) Respite Services Coordinator who will review your profile and recommend a program.
The ADP manager of your preferred location will contact you for an interview and you can decide if you/your loved one would like to attend the program.
If you agree to attend the program at that location, you/the person in your care will be given an admission package with forms to complete and sign. The ADP manager will explain the necessary paperwork.
If you decide not to attend the program at that location, an ADP manager from a different location will contact you for an interview.
Your case manager will work with you until you find the ADP that is the best fit.
Once admitted to the program, you/the person in your care will be assessed for fee determination. The co-payment may be waived, as determined by Alberta Health Services (AHS).
There may be a small fee for hot lunch while attending an AHS funded Adult Day Program, depending on income. You are responsible for your transportation (or the transportation of the person in your care) to the ADP and back, or, if you prefer, the cost of Access Calgary services.
Benefits
Club 36 provides regular outings for program participants and a break for caregivers. People with dementia often benefit from:
Feelings of independence
Meaningful, stimulating and success-oriented activities based on the Best Friends™ Approach
An opportunity to socialize with others
Certified instructors to facilitate appropriate fitness programs and games
Music therapy
Intergenerational programs
Healthy snacks and meals
Club 36 offers caregivers:
Respite and a feeling of comfort in knowing that the person with dementia is safe
Family events and social activities
A connection to the community
Ongoing support, information, resources and access to services