Meet Angela And Clyde
The first things that come to mind when Angela describes Clyde are loyalty and unconditional love.
"All he's ever wanted to do since the day we met is take care of me. But we always thought it would be him taking care of me, not the other way around."
Angela and Clyde met later in life, marrying at 42 and 50 years old, respectively.
"I've been through a lot in my life. When I met Clyde, it was like he picked up the broken pieces of me and put them back together. He's my world."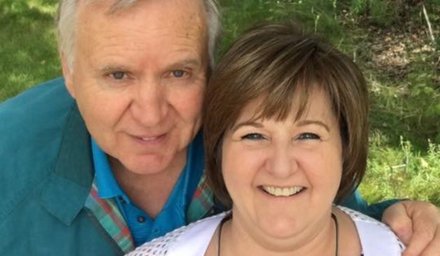 But soon after he retired at age 55, Angela began noticing subtle changes.
"He was always the one who wanted to go out and see people or do new things. Suddenly he wanted to stay in all the time, never doing anything outside his comfort zone."
What Angela didn't know is that behaviour and personality changes are a common first sign of dementia. But because many associate Alzheimer's disease with just memory loss as an initial warning sign, it's easy to overlook these other types of changes in our loved ones.
"The next thing I noticed was minor forgetfulness that progressively got worse," she says.
"Eventually I knew what was happening, but I didn't want to know. I was like an ostrich putting my head in the sand.
"The final straw was finding him sitting at the computer with his head in his hands. I asked what was wrong and he said, 'The computer says my CAPS LOCK key is on…and I can't find it to turn it off.'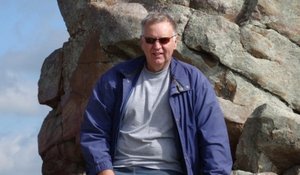 "I acted like things were fine, but inside, my heart sank. From that moment on, I couldn't deny the problem any longer.
"After his official diagnosis of young onset Alzheimer's disease, I was a wreck. At the doctor's office, I sat there thinking, 'I am literally going to die in this chair, because I can't take in any oxygen. I can't breathe.'
"Because I'm the type of person who needs information and to be able to plan, I booked an appointment for Clyde and I with a social worker from the Alzheimer's Society of Calgary's Support Services Team. I needed to know what was ahead, what to do, where to go, how to deal with it all, how to help him.
"Our social worker at the Alzheimer Society of Calgary was such a calming presence. She helped me access lots of resources for now and for the future. She still checks in every few months to make sure we're doing okay. I've also attended workshops so that I'm prepared for that lies ahead, like if Clyde ever goes into a care facility.
"I truly believe that you're never brought to a situation in life without being given the tools to get through it – and the help of the Alzheimer Society of Calgary has been a big part of that.
"Now a year on, Clyde has good days and bad days, of course. Honestly, I don't think he understands what's ahead. He doesn't want to know, and that's okay. He's a proud man, and I think his biggest fear is eventually losing his independence.
"It's important to me that I know as much as I can for him so that he doesn't have to worry about what's to come.
"It's so hard because there are no definitive answers or timelines with this disease. Sometimes I feel I'm not coping very well, but then I remember I'm robbing myself of today by worrying about tomorrow.
"Every day, I've been given one more day with him. We might not have had 60 years of marriage, but what we've had so far – and we're still going – are good years.
"Through all of this, I've got strength from other people sharing their journeys. So I constantly remind myself, 'I need to share my story now, too, because maybe I can help someone else. Maybe by sharing, I can make something good come out of something bad.'