Meet Donna
Her mother Gladys inspires her to this day
Donna's mother Gladys (shown below) was a big part of her life. Gladys lived with dementia for many years, and Donna has some distinct memories to prove it. Here she is, soaking in the sun, at a pool in Las Vegas.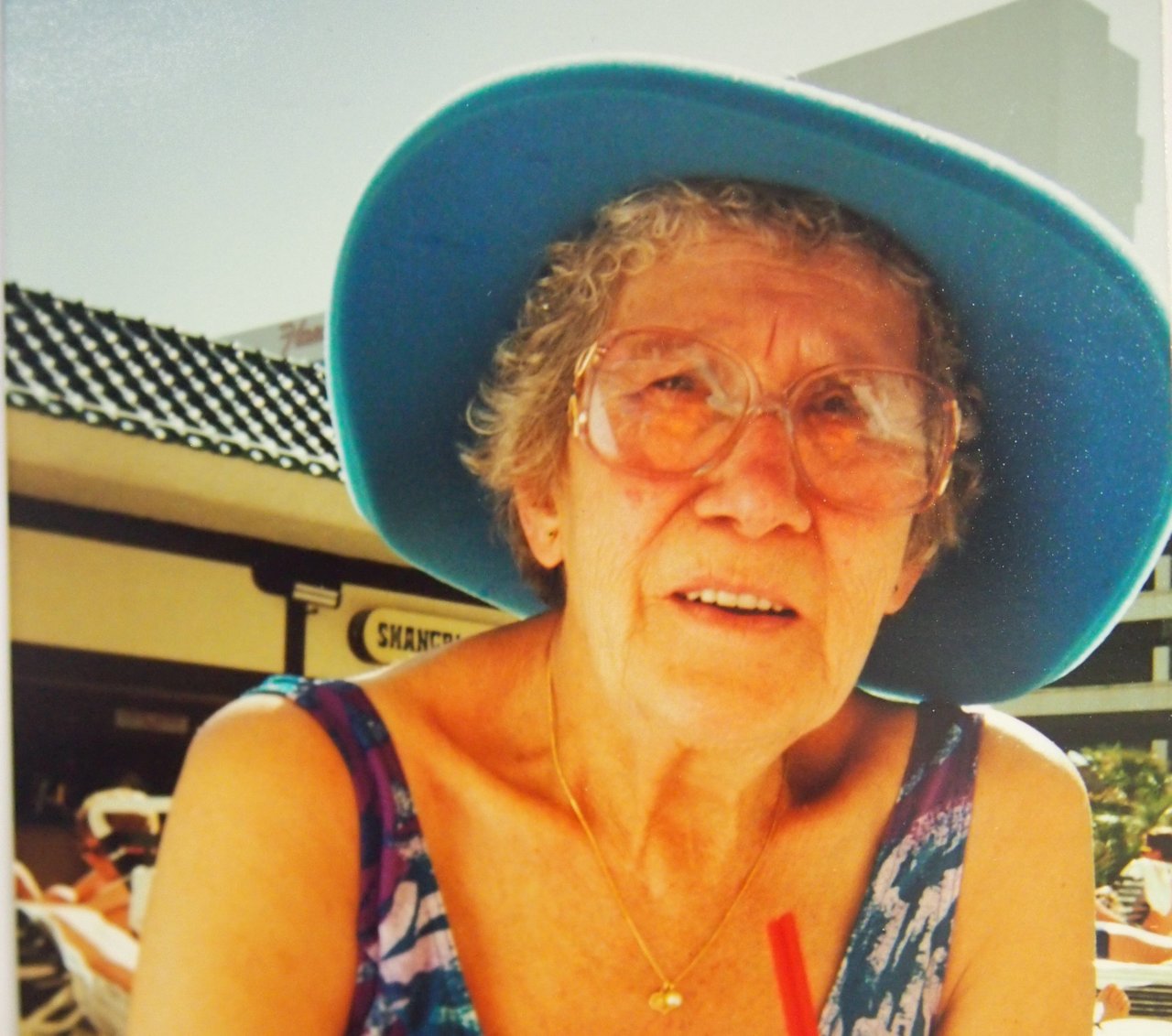 They lived in the moment and appreciated being together
I got the opportunity to go to Vegas for two weeks with my mom. It was my first time and I don't even gamble. Mom loved it. My Dad wanted to treat her, as he's not a traveler himself, and he planned this trip. Then he passed away tragically and suddenly. It was important to stick to the plan. It's what Dad would have wanted.
Mom played slots. We laid by the pool because she was a sun worshipper, but she also loved to go in the water. We kept the bartenders busy making those nice frozen drinks. And she had this floppy foam hat to keep her head cool. I bought postcards and we sat in the hotel room and we wrote them all out to the family. It was special coming from her. She would have thought of the family in some way.
There were certainly hardships
One of the hardest things was when she was diagnosed. Through geriatric assessment she went to a specialist. He would test her and I was there with her. That was so stressful. You want to help so badly. I wanted to give her little hints. She'd look up at me for the answer. That hurt. And when she was all finished with all the tests, she looked at me and said "I don't think I did that great." Deep down it broke my heart. A part of you is thinking this is unfair. I kept thinking I needed to keep it together in the moment and have a cry later. I took her out for lunch and a glass of wine and then she forgot all about it. She was diagnosed at 68.
Pretty much the hardest thing I can remember was having to bathe my mother for the first time, with her not knowing who I was. In my heart I believed she knew I was someone close, but just couldn't remember my name. She always took care of me. And now I was taking care of her.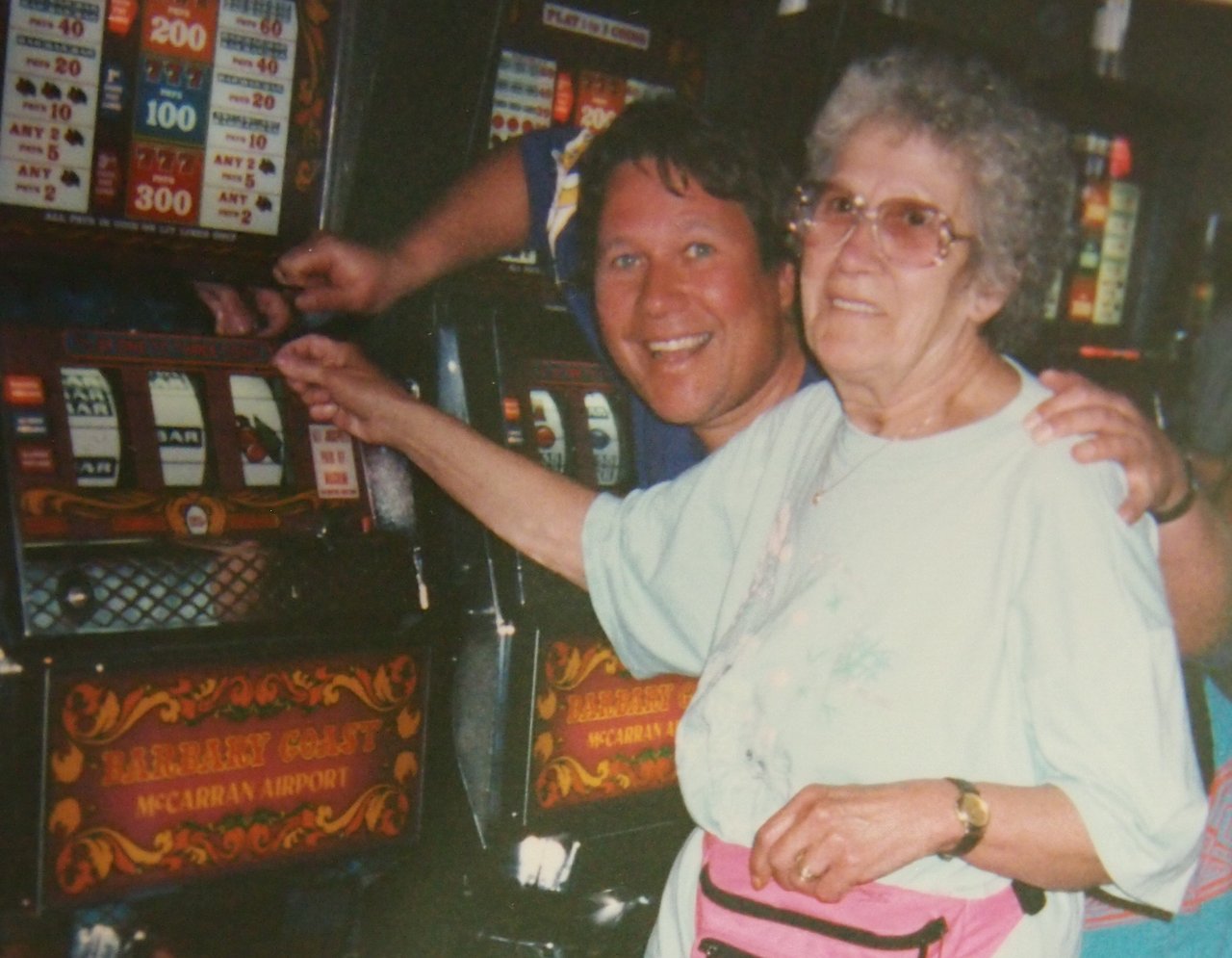 My brother Gary (above) was the primary caregiver for a while. Here they are pictured together at the slots in Vegas. She moved in with him because he didn't want her placed. We decided to try it and get Homecare to come in and help out. It worked alright for about a year, maybe more. And then it was getting harder. Mom wouldn't let Homecare in because she liked the English lady who was now gone. Eventually she was placed at a care facility in Edmonton because she needed more care.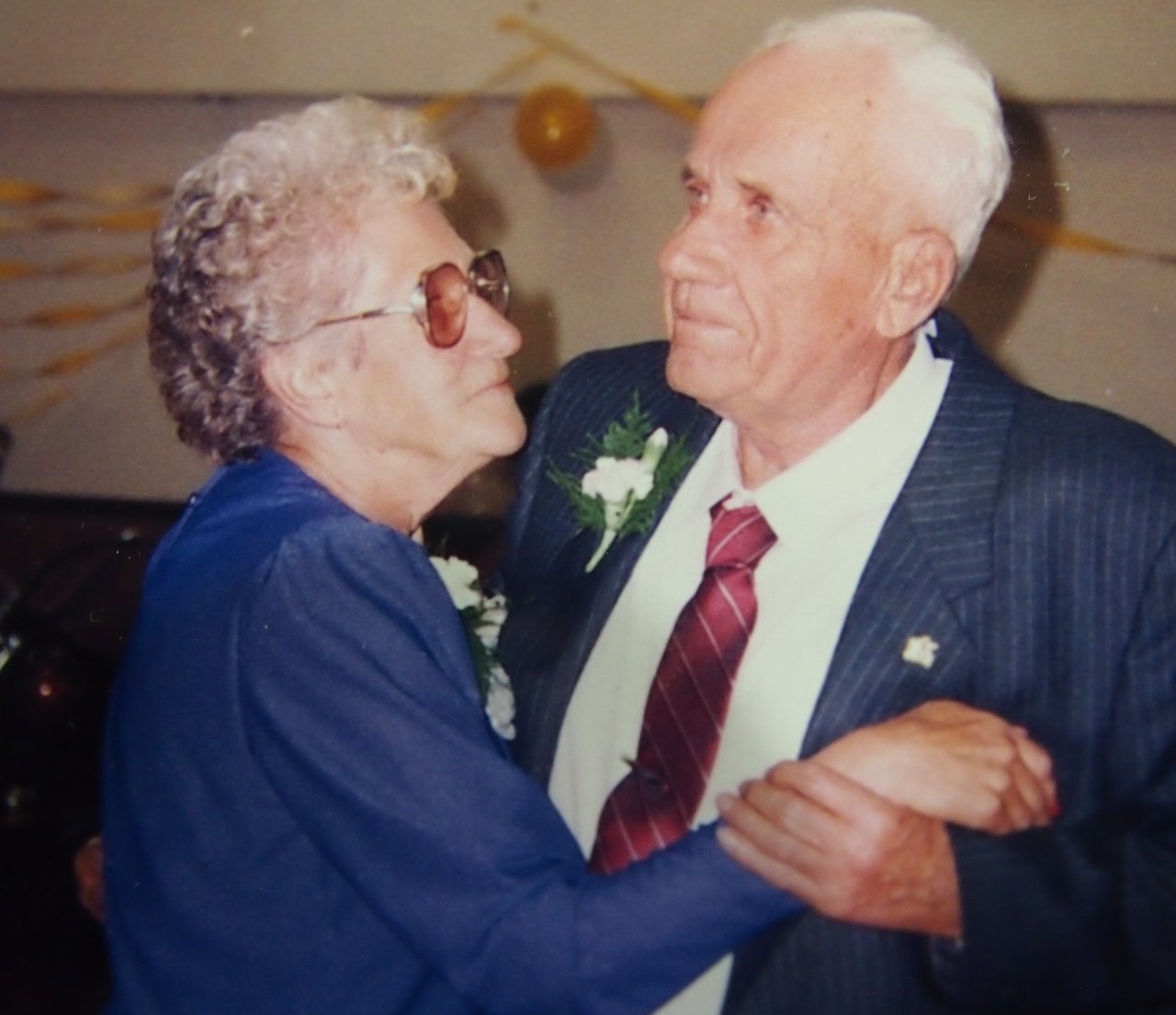 Finding ways to see the humour
(Gladys is pictured above with her husband Harry, Donna's father, on their 50th wedding anniversary.)
It was very hard transitioning her into care. But we did find a little bit of humor in the sadness. We were told for the family to stay away for a week or so to help her adjust. I don't think we lasted that long. And when we did visit, we learned something new. Mom had always looked after children – her entire life. She believed she was there to "babysit" or look after all the residents. She felt this burden of responsibility and thought she had been brought there to do a job. And she commented, "I just can't look after all these kids!" (referring to the other senior residents).
Looking back at important lessons
The only good thing about Alzheimer's disease is that she forgot how to smoke one day. She simply never asked for one after that.
I felt guilty a few times visiting her in the home and not staying very long. An LPN said something I always remembered: "It's not the quantity of the time, it's the quality."
We also learned that you don't have to argue or correct the person. One time Mom saw a flamingo on the front yard. One of my siblings would argue and it would (unintentionally) make Mom feel bad. I would just respond, "Oh is that right?" It's OK to allow yourself to go into their world. By saying she was wrong, it just hurt her. We were there to help her feel more comfortable – which, in turn, would help us feel more comfortable.
Another example was when it was my birthday. I went to the facility and my mom and I were walking down the hall. I told her it was my birthday, and that I was now 37 years old. She looked surprised, and said, "Really?" I responded, "Yes." And Mom said, "So am I!" I smiled, and responded, "Cool, let's celebrate!" I gave her a hug and we went on our way.
And with family dynamics, not everyone will be able to give to the experience equally. I had an older brother who was honest enough to say he simply couldn't go and visit that often. It was too difficult. And we needed to understand that. We also appreciated his honesty.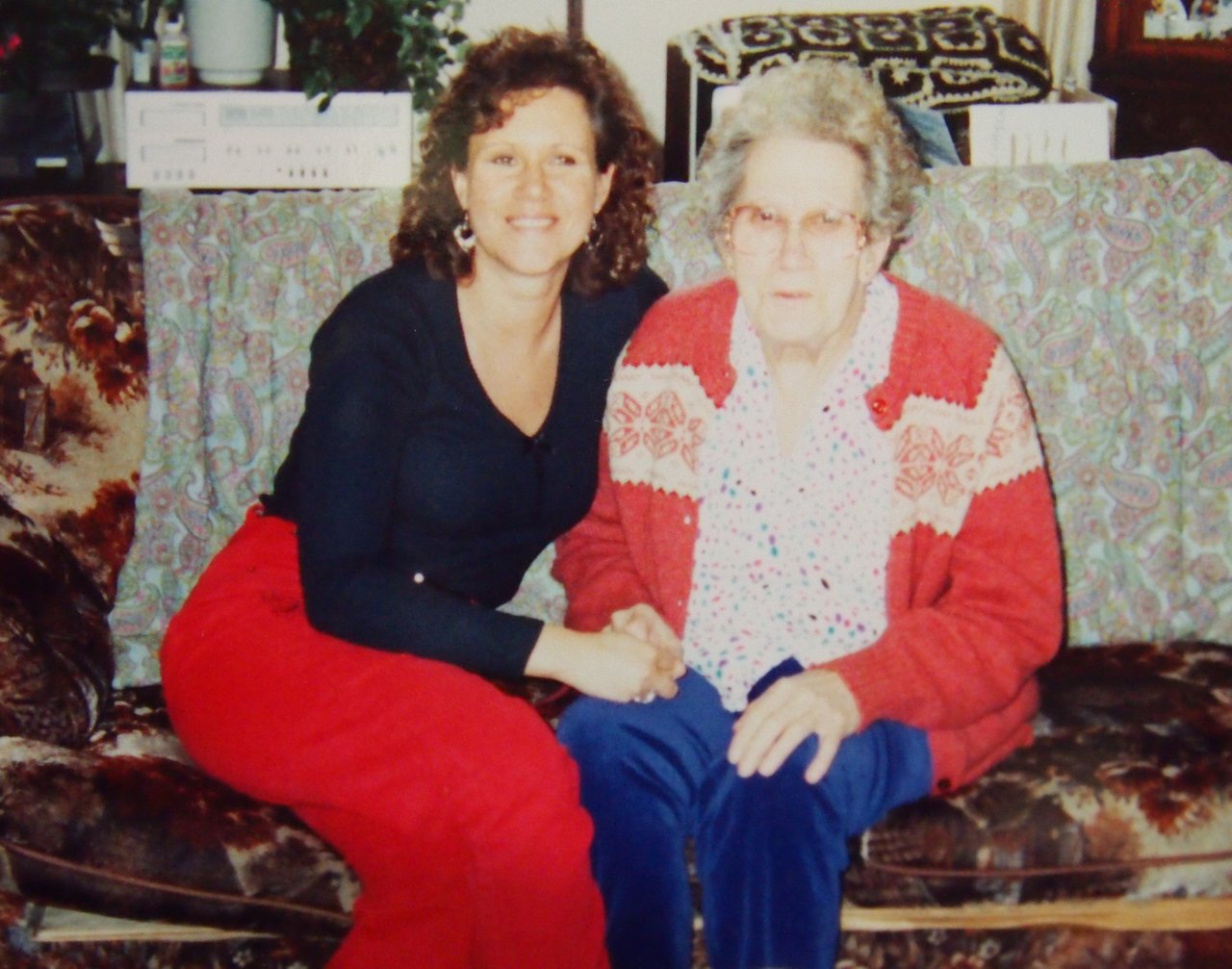 Peer support helped
I found a support group and that helped. The hardest part was hearing other people's stories of how bad it could get. You automatically think you're headed that way. Over time you learn that everybody's different. You realize not all people go through the exact same thing. Am I going to have to worry about this? On the flip side, we had support and practical ideas on how to handle things as they came up.
Donna's experience inspired a career change
I learned that, as an HCA (Health Care Aide) I could go into the world of the person with Alzheimer's. So that's exactly what my sister Deb and I did. We have been working with seniors living with Alzheimer's disease and other dementias for the last 20 years.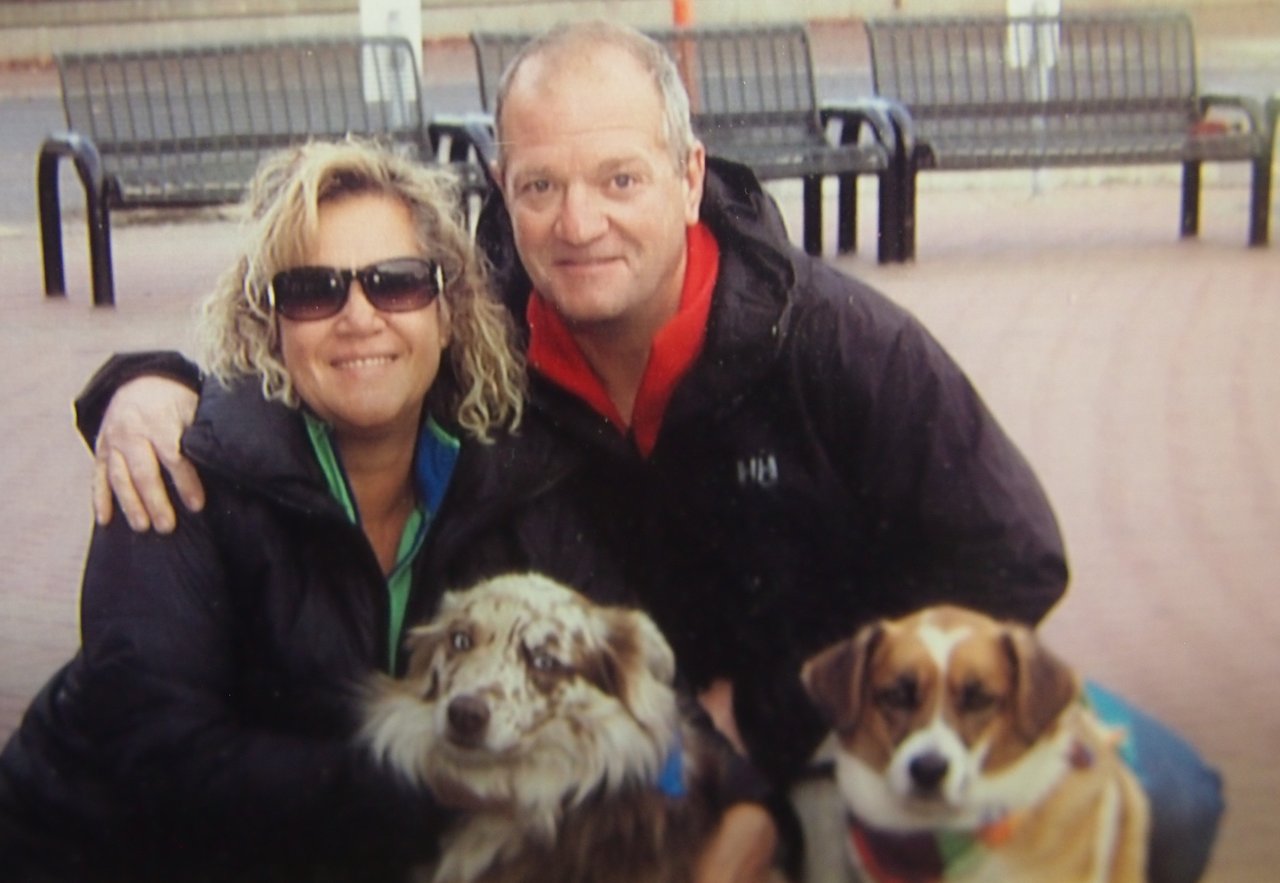 Donna's journey prompts her to walk and raise funds for local families. Every year.
You feel the closeness at the event. It's usually me and my husband – and sometimes my sister from B.C. It's the whole day, thinking about Mom the whole time. We try and share stories along the walk. It's about us and yet it's about everybody. The experience is heartwarming and heartbreaking at the same time. I have a pin I always wear on the walk – and it shows Mom in Vegas with a foam hat, holding a drink. (Donna is pictured above with husband Jim, and fur children Hailey and Heidi).
Donna offers some thoughts to others in the same boat
I'd tell other family members about my story and I'd have them contact the Alzheimer Society of Calgary. Learn more about it. Research it. If it's too overwhelming, there are support groups and there's help out there. As a family member or caregiver, you need rest too. Get respite help. Take care of yourself. You might notice a personality change in yourself, where you're snapping and it's not like you… or you're not sleeping well, you're on edge, maybe not eating and having trouble focusing on things. There are resources and tools to help you through.