Meet Peter Maher
If you're a hockey fan, you've probably heard my voice on the radio covering the Calgary Flames games over the past many years. This is not an easy story to tell so I hope you'll bear with me. You see, my Mom was a very proud lady.
Because I lived in Calgary and my parents were living in New Brunswick, I didn't see my Mom as often as I would have liked and therefore wasn't aware of the signs at first. My Dad saw them, though. He noticed that she would start repeating stories that she had just told him or would have trouble remembering where she had left things. At first the signs were subtle. But gradually they became more noticeable, more out of character and more dangerous. She would forget to turn the stove off or would leave the bath water running.
Dad didn't want to worry us kids so he kept most of this to himself. He knew how proud my Mom was and how she wished to maintain her dignity. He could not bear the thought of people seeing her deteriorate this way. And quite frankly, he didn't know where to turn for help. So instead Mom and Dad struggled in silence.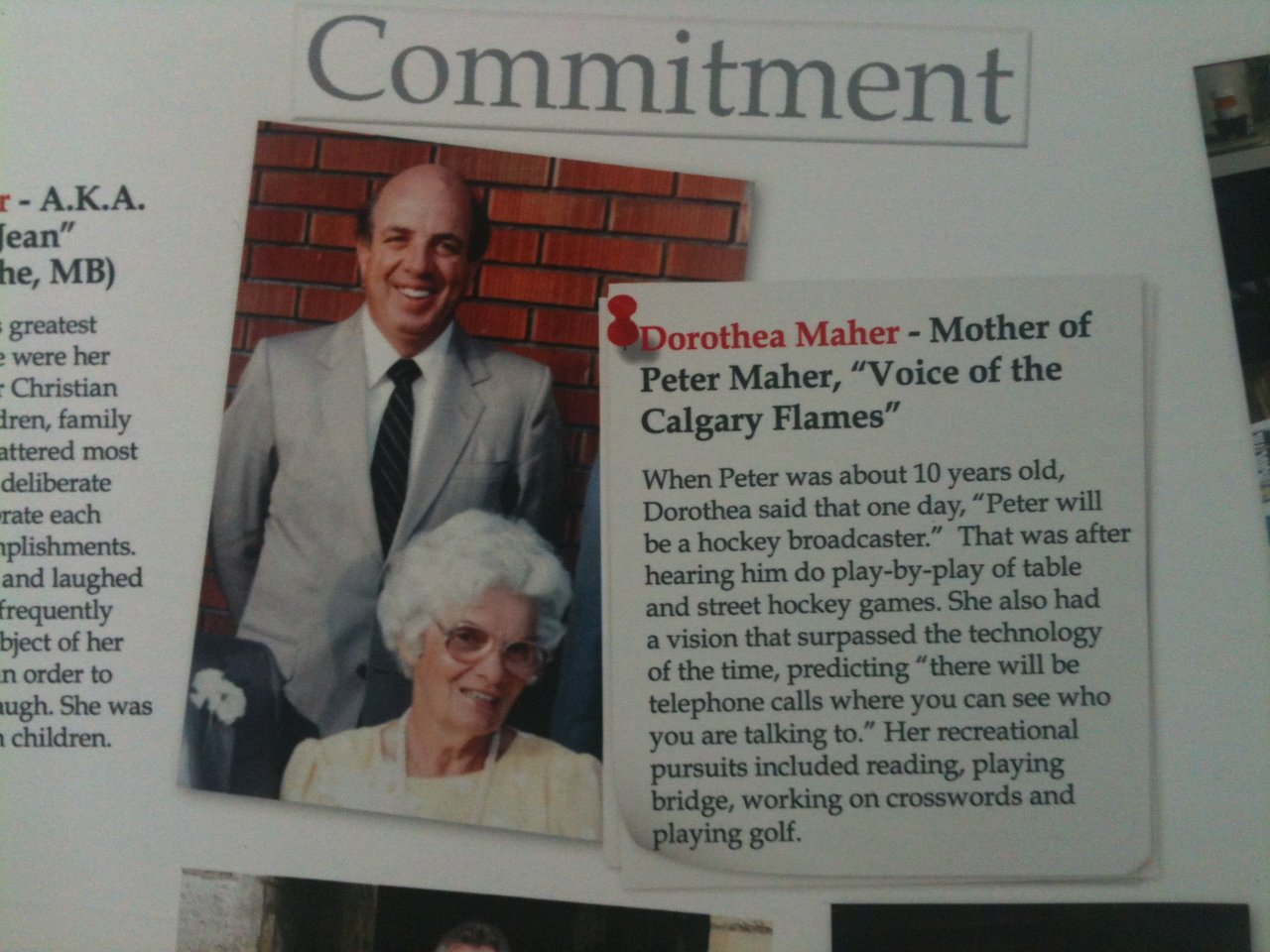 It was on a trip out to visit them that I was able to witness first-hand what they had been living with. As I watched my Mom struggle in frustration to communicate something she was trying to tell me, I saw her eyes moisten with tears. She simply couldn't find the words. It was like she was trapped in her own mind. To see my Mom this way was not easy.
Can you imagine what she must have been feeling? Not able to express herself and not able to follow a simple conversation. Then the time came when she was unable to recognize the faces of her own family members. Perhaps you've experienced this with someone you love, too.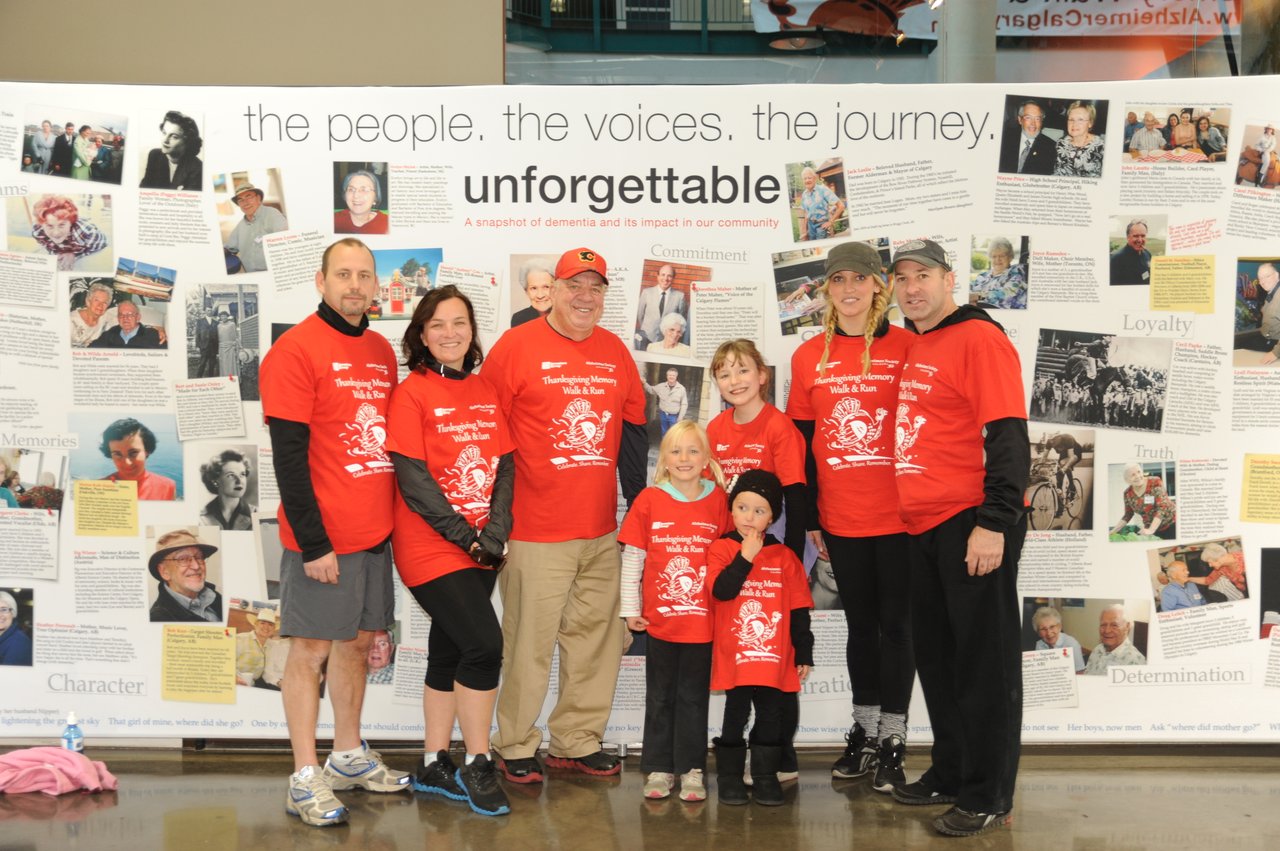 I wish my family would have known about workshops offered by the Alzheimer Society of Calgary while my Mom was still alive. Through these supportive programs, family members and caregivers are provided with accurate information about the disease and about local resources. They receive practical strategies for daily living and learn how to plan for the future.
Families need to understand there is no shame in admitting someone in their family has dementia. But they need to know where to turn for help. If more people knew that help was only a phone call away, I'm sure they would make that call rather than trying to cope in silence.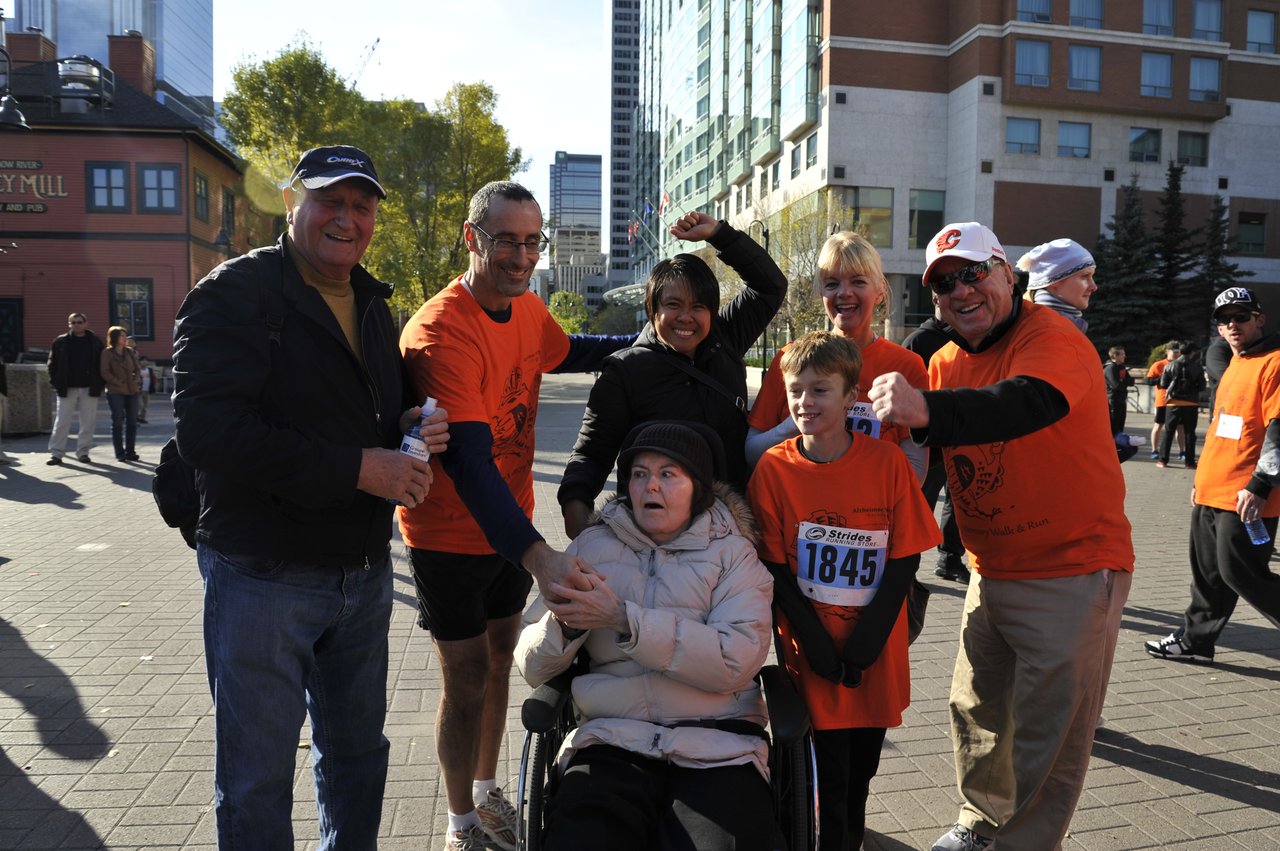 This is me pictured above with a family I met at the
Alzheimer Walk & Run
. It's a great way to feel empowered and to do something important for the cause in your local community.
Now I'd like to finish my story on a happier note. When a loved one is slowly slipping away, we tend to look for the smallest sign of remembrance. This is me pictured above with a family I met at the Thanksgiving Memory Walk & Run. This happened for my family in a very profound way about four months before Mom lost her battle with Alzheimer's.
It was a beautiful sunny summer day and many of the family had gathered to visit Mom and Dad. As we placed eight-month-old Haylee (one of my Mom's great-granddaughters) on her lap, she suddenly grinned ear to ear. It was like magic! For Dad and us kids it was much more than a smile. It gave us knowledge that at least for a few moments, she was happy and aware. Although it was the last time she would ever smile, that moment will be forever imbedded in my heart.
Thank you so much for spending time with me as I shared my story.
With humble thanks,
Peter Maher
Proud Volunteer & Supporter, Alzheimer Society of Calgary
Retired Voice of the Calgary Flames on Sportsnet 960 The Fan