Meet Ruth And John

The phone call that changed everything
August 15 started out for Ruth Murphy just the same as the string of long, summer days before it. Having recently retired, Ruth's husband John dropped her off at the C-Train station before work. Ruth herself had plans to retire from one of the Big Five banks within a year.
At the office for less than an hour, Ruth's phone startled her with a call from John. That's odd, she thought. He never calls me at work.
"'Do I have an appointment somewhere this morning?' John asked.
Ruth reminded him of his specialist's consultation about a knee replacement; it had been booked for weeks, and John was to go directly there after dropping her off.
Ten minutes later, the phone rang again.
"Where do I have to be this morning? And why am I going there?" John asked.
Now fearing that something was seriously wrong with her husband, Ruth told him she was coming home.
"Do I have to pick you up? Where do I have to go for that?" said John, who had driven their usual route that morning with no problems, just as he'd done countless times before.
Giving strict instructions for John to stay put, Ruth rushed to the train, calling the house along the way to keep tabs on him – no answer. When she arrived at her station, she found John in the car at their usual drop-off spot, unsure how he had arrived there safely.
I remember saying, "'You switch to the passenger side, John. I'll drive.'"
And the 'driver's seat' - of both John's life and her own - is where Ruth has sat ever since.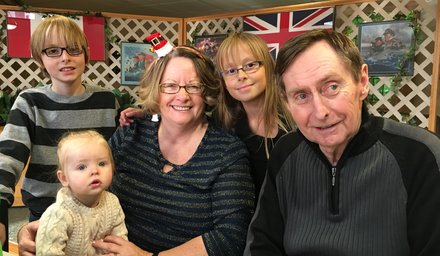 Subtle changes
Ruth began noticing subtle changes to John's cognition and memory several years earlier.
When the couple went to visit family in New Brunswick for Christmas, John couldn't remember where the bathroom was, and had to be shown each time. He also couldn't remember that his daughters had married and no longer lived in Alberta, repeatedly asking why they had stopped spending vacations with the family at the lake.
And as an avid reader, John normally worked his way through hundreds of novels in a year. He especially loved MacLean's magazine, often finishing an issue cover-to-cover in a single day.
"I remember he told me about a cover story on the Canadian health care system, but when I actually got around to reading it, it wasn't anything at all like what he had described. And I started to notice that instead of being through the whole magazine in a day or two, he would be on the same page for the longest time, reading it over and over."
Respite and relief through Alzheimer Society of Calgary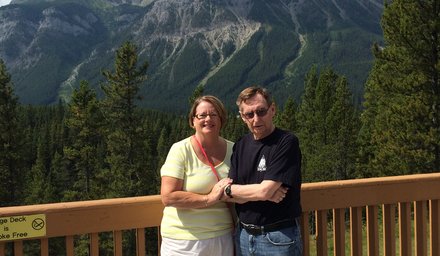 John was diagnosed with a seizure disorder, but despite being placed on medication his symptoms continued to worsen. He didn't receive the correct diagnosis of Alzheimer's disease until four years later.
Now several years on, Ruth continues to set aside the retirement she and John always dreamed of to step up as a caregiver for her husband.
"At first, it was overwhelming. When I was caring for him at home it got to the point where if I left him for even a moment, he was totally lost. I couldn't even go to the bathroom without him calling out and asking me where I was.
"It was then that I became more involved in finding out what to do for him, and for me.
"Unfortunately, the doctor I had at that time wasn't very helpful. His attitude seemed to say, 'Why do you need help? He's your family. You should be able to look after him, that's just what women do.'
"So I decided to enquire about sources of support through my work benefits, and was directed to the Alzheimer Society of Calgary.
"I attended different caregiver programs offered by the Society. I learned about dementia, completing online courses on understanding dementia and dementia risk. I borrowed books from the resource library and both John and I attended a special presentation given by Dr. David Hogan. I gained a lot of knowledge and some coping skills, especially about learning to take care of yourself in order to be able to take care of someone else. That's so important.
"Without the Alzheimer Society of Calgary, I wouldn't have known where to go to get accurate information. So much stuff out there is misinformation, especially on the Internet. And there's so much information that can be overwhelming, too. So I'm very grateful for that."
John also attended Club 36, the Alzheimer Society of Calgary's Adult Day Program.
"Club 36 was very beneficial. While he attended, it gave me time to do an exercise program to prepare for hip replacement surgery. It also gave me the chance to participate in a support group. I wouldn't have been able to do either of those things without Club 36. The staff were excellent."
Finding a 'new normal'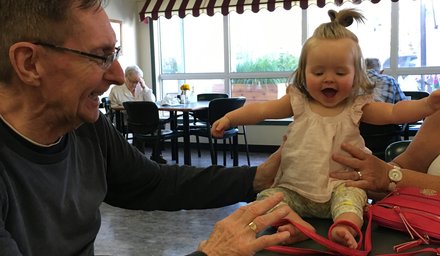 John now lives at an extended care facility where Ruth visits him almost every day. She finds great delight in babysitting her youngest granddaughter and in seeing how John still lights up around young children despite having lost much of his ability to speak.
"Obviously you have some bad days, but there are funny moments, too.
Once when he was still living with me at home, I asked John to help me cut some vegetables.
"'Get your husband to do it!' he said, with no hint of irony.
"You have to hold on to those funny stories to get you through the harder times."
Ruth makes sure to take time for herself amidst caring for John and her family. She keeps Tuesdays and Thursdays as days for 'me-time', and finds journaling a highly valuable part of her self-care routine. She runs a community cooking class at the fifty-plus condo where she lives, taking day trips and attending social group events with other women from the complex. Two days per week she volunteers at the extended care facility where John now resides. Some days he recognizes her; some days he doesn't.
"It can be a really hard thing. You still have guilt, you still have anger and loss. John and I both lost our retirement years and at such a young age, too. You have all these plans, hopes and dreams, when suddenly they're gone. But all you can do is move forward with your life and make the best of it."
Ruth's advice for others
Ruth recognizes that without access to vital resources and the strong community of support around her, she wouldn't be able to thrive despite the challenges of caregiving.
"Asking for help can be the most difficult thing to do. You assume people know you need help and you wonder why they can't see that you're struggling.
"My advice to anyone going through something similar, whether they have a diagnosis or are a caregiver, is to ask for help. If you're not fine, don't hide it. You're not doing the person who has the disease any favours, and you aren't doing yourself any favours, either. When people ask 'How are you?' be honest.
Because only by being honest can things ever get better."