Donate now

Living with Dementia
I don't know what I'd do without Club 36! It really gives me the break I need to be able to keep him at home a little longer.
I expected a few brochures - and I left the office with hope.
Meet Matt and Heather
This devoted son and his mother experienced a dramatic change
Matt was about 22 years of age and had just graduated university. He had planned to take a year off after completing his bachelor's degree in International Relations and was looking forward to returning for graduate studies.
His mother, Heather, worked for the Office of the Public Guardian. She was a professional woman, artistic and effervescent. She enjoyed music and time with her family. Matt began to notice some issues with her short term memory, executive functions and keeping track of time. She had trouble remembering instructions. There was a lot of word finding and Heather was noticeably losing vocabulary. Quite strange, considering she had always done crossword puzzles and read a great deal. Suddenly, she didn't seem to remember what a dishwasher was called.
Heather was officially diagnosed with probable early onset Alzheimer's disease in 2008. She was only in her mid-50's. It took a while to get to the bottom of what was happening. The doctors recognized the symptoms and had done some testing, but figured Heather was too young to consider Alzheimer's disease.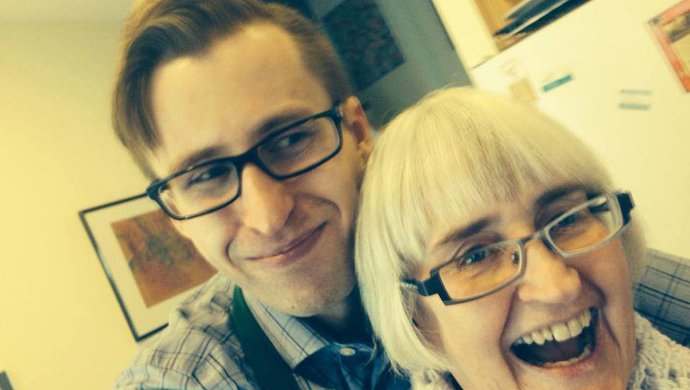 Adjusting to the new reality
Matt recalls that Heather would get upset on some occasions. She was having some realizations about her losses in functioning. She was having trouble playing her clarinet and couldn't play in the concert band because she wasn't able to keep time or follow the music any longer. "It's not necessarily that she can't read things, it's just that there's a delay between reading, comprehending, and being able to do something about it (respond by playing a note)."
Regardless of the losses, Heather remained upbeat. She had the most remarkable, most positive attitude out of any of her doctor's patients.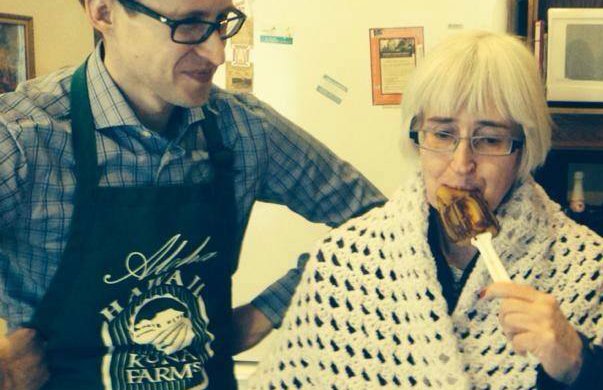 Belly-laugh moments
Heather's sweet tooth became more pronounced. "Mum went to an event at the church, a music evening. She went with my friends Kate and Erin. We had made a carrot cake and they took a portion of that. Half way through the evening, Kate and Erin decided to get a slice and there was only one left, so they cut it in half. (Mum already had 2 pieces by this point.) As she cut it, Mum swooped in, grabbed it, licked all the frosting off, and put it back on Kate's plate!

The next day we were standing around retelling this story amongst ourselves and having a chuckle about it. There happened to be a little bit left in the fridge, as I didn't send it all to the church. We went up to the kitchen and I cut it into 2 pieces -and when I turned around, Mum was standing there staring intently at the plate. Kate came up and stood in between Mum and the plate. Then Mum stuck her hands past her, doing this "zombie/ Frankenstein"-type walk to get past her! Erin was slumped over in the corner trying to hide her piece and eat it. And just the smile on Mum's face the whole time was priceless."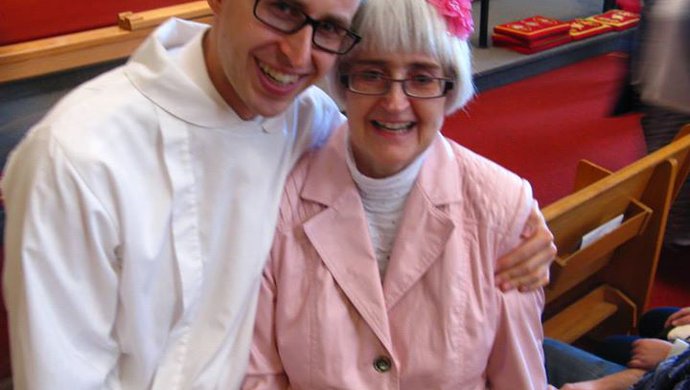 Surprises in store
"We changed the church service we go to because she remembers more of the other one. (We had always been going to contemporary service versus the older, more traditional service.) When we made that change to the older, more traditional service, it was astonishing because I was holding the book but
she was just going off of memory from her childhood (having attended that style of service). She knew all the songs better than I did!"
Club 36 provides activities and respite
"She cried a little bit on the way home the first day. I think it was an uncertainty thing. Then the next time, she was super excited. She got to sing all day long, and she made a good friend. I'd always just say 'it's time to go see the ladies.
She gets the socialization and the time for music. For me, it's the time that I don't have to be worrying about her. I can do things – things that are easier to do without her being right here. It's a day off, a time to relax or a time to catch up on things. She goes to Club 36 twice per week."
Matt's plans have been put on hold. For now.
Matt is Heather's primary caregiver. When Heather was diagnosed, he had a growing realization that his graduate studies wouldn't happen right away. He knew things would settle down a bit, but that he wouldn't have time to do other things. "When I took that time off after university, I had money saved from working and earning scholarships – and the plan was to have a long, relaxing four years' worth of saved up vacation time. I didn't end up getting that full vacation, but I did get an adventure."
As for what's next, Matt is open to possibilities but has his priorities locked down. "I've thought about public finance, public policy or theology but it's not viable right now. What will I do once it gets to a point where Mom is placed in a home? It's in the back of my mind."
Matt offers this thoughts to others
"It's not the end of the world. And it (caregiving) can actually be enjoyable. I've gotten to spend a ton of time with my mum. There are things that are frustrating and can be stressful, but for the most part it can be quite enjoyable. I have more carrot cake stories than anything else. "
As a first step towards acceptance of the changes in my husband [after his diagnosis] I made a phone call to the Alzheimer's Society of Calgary to sign up for a course. After explaining my intent, and before anything else was said, the person on the other end of the phone asked, "How are you doing?" So unexpected, so sincere, so compassionate, so moving. We chatted for a long time.